Sports Medicine
Foot or Ankle Injury Treatment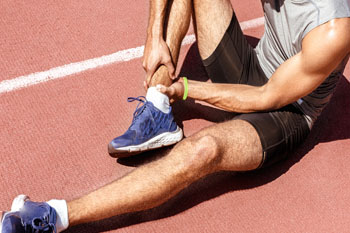 Athletes, or those who are frequently involved in sporting activities, are generally at a higher risk of getting a foot or ankle injury. Overuse and intense pressure put on the muscles, ligaments, and tendons of the lower extremity region are typically caused by repetitive motions. This in turn will often cause stress and lead to injury of the foot or ankle. Some of the most common injuries caused by sporting activities include ankle sprains, peroneal tendonitis, stress fractures, chronic ankle instability, heel pain, injury to the Achilles tendon, and injury to the sesamoid bones.
Common Causes of Foot and Ankle Injuries
Sports in which ankle sprains commonly occur include soccer, tennis, and cheerleading. Ankle sprains are caused by a tear in the ligament of the ankle, which typically occurs when the foot is rolled in an awkward manner. Ankle sprains are usually accompanied with bruising, swelling, and pain. Those who have sprained an ankle in the past may run the risk of developing chronic ankle instability. Those with this condition will generally feel a persistent pain, swelling, and tenderness in the ankle, and may experience the sensation of the ankle giфving way when performing everyday activities.
The Achilles tendon is the largest tendon in the body. It connects the calf muscles to the heel bone. Running, jumping, and walking can all impact this tendon. Two common injuries to the Achilles tendon are tendonitis and a rupture of the tendon. Achilles tendonitis is inflammation in the tendon often caused by an increase in the amount and intensity of stress placed on it. It can be treated non-surgically with rest, ice, or anti-inflammatory medication. In some cases, surgery may be required. A rupture of the Achilles tendon can be treated by placing the lower leg in a cast for several weeks or with surgery. Both methods require 4 to 6 months of rehabilitation.
Ankle sprains are the most common sports related foot and ankle injury. A sprain occurs when the ligament holding the ankle bones and joint stretches beyond its normal range. It can be treated non-surgically with a combination of rest, ice, compression by a bandage, and elevating the ankle. This combination is referred to as RICE. Severe ankle sprains in which the ligaments are torn may require arthroscopic or reconstructive surgery followed by rehabilitation.
If you're frequently involved in sporting activities and would like more information on how to best protect your foot and ankle, we recommend you speak with a podiatrist for professional care and advice.